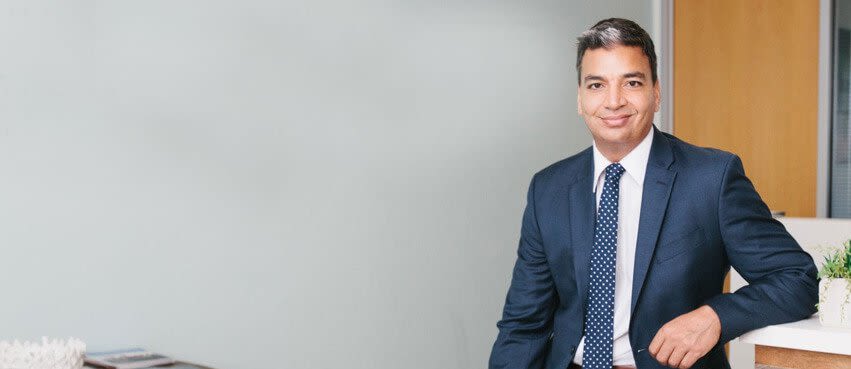 As a former college football player, my competitive spirit was first cultivated through the world of athletics. When I enrolled in law school, I had every intention of becoming a sports agent, but I wound up discovering my niche through trial advocacy courses instead.
The courtroom not only has the competitive challenge I thrive on — it has given me a platform to hone many of my natural strengths. There is endless variety and intellectual rigor involved in trial, and every client presents me with an opportunity to think creatively and craft a unique strategy. I am also the rare breed that enjoys public speaking and gets a thrill out of presenting in court. Yet above all, I enjoy helping clients at some of the most stressful times of their lives.
Though I have attained many successful verdicts, the raw emotion I witnessed from the mother of one of my clients is something I'll never forget. When my client's mother first came to me, she was completely in despair. Her son was facing years behind bars, and she didn't think his life would ever be the same again. After saving her son from conviction and giving him the opportunity to pursue a successful future, I watched as she broke down in tears of happiness. Knowing that I have the power to impact someone's life so positively is a great responsibility, and it is one that I never take lightly.
The trust my clients place in me is sacred, and it guides everything I do.
After a decade of practice, I am now honored to say that I have completed more than 50 jury trials to verdict and over a thousand preliminary hearings across Southern California. The extensive experience I've gained from defending such a wide variety of criminal cases has provided me with the opportunity to appear in front of hundreds of judges throughout the state. As a result, I've had the opportunity to form strong relationships with prosecutors, police agencies, judges, probation officers, expert witnesses, and courtroom staff alike. These relationships give me an insider's view of the legal system, which benefits my clients every step of the way.
In 2019 and 2020, I became a Certified Specialist in Criminal Law. Only 350 out of 150,000 criminal defense attorneys (roughly 0.2%) in California are certified in this area. This title is rewarded to those with a proven track record in criminal defense, have passed an extensive exam testing their knowledge and competence within the area of criminal defense law, received recommendations by those in their field, and have fulfilled ongoing education requirements. I am honored to reach this personal goal of mine and to use it for the benefit of my clients going forward.
As the child of an immigrant, I have a unique appreciation for freedom. I have lived all over the world and seen first-hand what it's like to be at the mercy of someone else's control. Though my travels have allowed me to better understand an array of cultures, I ultimately chose to settle down and make a life for myself in the U.S. in Southern California because of the many privileges we are blessed with here. I believe we should all have the right to freedom. Unfortunately, a criminal conviction not only takes away your independence — it affects your immigration status, your ability to work, and of course, your loved ones, too. Those are not things I'd want anyone to experience. Let's work together to protect your most precious liberties.
BAR ADMISSIONS
California State Bar

Central District of California Federal Bar
EXPERIENCE
Los Angeles District Attorney's Office

Orange County District Attorney's Office

Tulane University Domestic Violence Law Clinic

Nissan Corporate Headquarters Legal Department
EDUCATION
Juris Doctor - Tulane University

Bachelor of Arts in Sociology & Political Science - Yale University
CERTIFICATION
Certified Specialist in Criminal Defense, 2019

Certified Specialist in Criminal Defense, 2020
AWARDS
10 Best for Client Satisfaction - American Institute of Criminal Law Attorneys

Client's Choice Award - Avvo

AV Preeminent 5.0 out of 5.0 Peer Rated - Martindale-Hubbell

Top 40 Under 40 - The National Trial Lawyers

Lead Counsel Rated - Lead Counsel

Deputy District Attorney III Promotion - Los Angeles District Attorney's Office

Deputy District Attorney II Promotion - Los Angeles District Attorney's Office

Project L.E.A.D. Leader - Los Angeles District District Attorney's Office

James A, Wysocki Trial Advocacy Award - Tulane University

Senior Intraschool Trial Champion - Tulane University

Best Speaker - Lone Star Trial Competition

Special Teams Player of the Year - Yale University

AVVO 10.0 Rated - AVVO

Super Lawyers Rising Star 2019

Super Lawyers Rising Star 2020
ARTICLES
PROFESSIONAL ASSOCIATIONS & MEMBERSHIP
Los Angeles County Bar Association